A third Brighton player has tested positive for coronavirus.
The unnamed player, who will now self isolate for 14 days, was tested on Saturday – two other players tested positive earlier in the pandemic.
Brighton players have been training individually at the training ground and the club says this will be allowed to continue.
Premier League clubs are due to meet on Monday for more discussions about their proposed Project Restart plan.
"It is a concern," Brighton chief executive Paul Barber told Sky Sports "Despite all of the measures that we've been taking over the past few weeks, where the players haven't been involved in any significant training at all, we've still suffered another player testing positive for the virus."
Responding to news of the Brighton player, Norwich's 22-year-old midfielder Todd Cantwell tweeted: "We are just people too."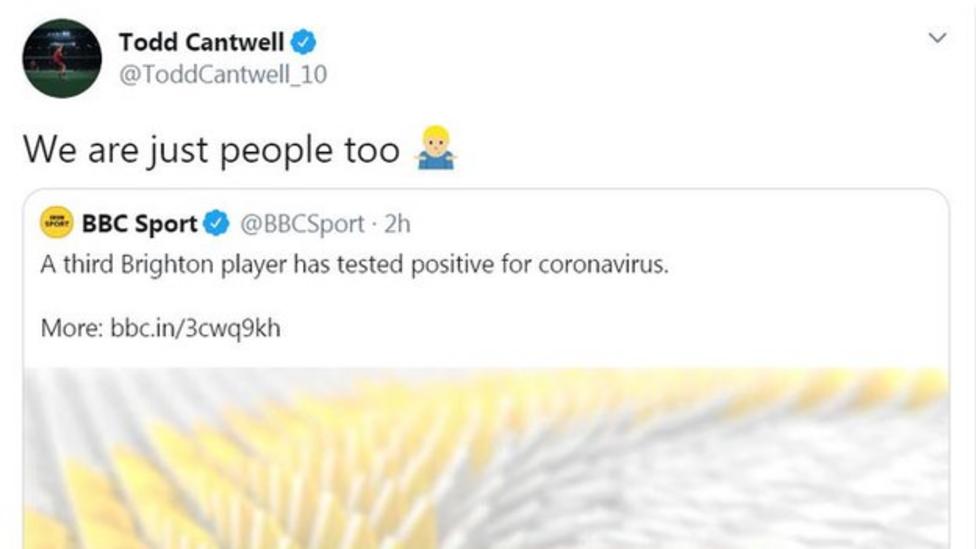 The Premier League has been suspended since 13 March but is aiming to resume behind closed doors in June with most teams faced with nine fixtures left to play.
Barber has been vocal in his opposition to the league's plans of playing matches at neutral venues with Watford and Aston Villa also objecting to the proposal.
It is understood Premier League clubs are not planning to vote on whether to use neutral venues at Monday's meeting.
The vote looks likely to be held later in May and 14 of the 20 clubs must vote in favour for it to be adopted.
Before voting, league bosses are also awaiting government guidance on the criteria for bio-security at events and ground-safety licensing, which is expected later next week.
Monday's Premier League meeting will feature a vote on whether player contracts are to be extended until the end of the rescheduled season.
In Germany, Bundesliga 2 side Dynamo Dresden announced on Saturday they have put their entire squad and coaching staff into two-week isolation after two players tested positive for coronavirus.
The Bundesliga and Bundesliga 2 are due to restart on Saturday, 16 May.
Analysis – 'Precarious nature of Project Restart'
This latest development underlines the precarious nature of the whole concept Project Restart – and how bitter the debate around it has become.
It didn't take long for the conspiracy theorists to point out Brighton have been vocal in their opposition to games being played on neutral venues and wonder if there was a connection between that and the positive Covid-19 test.
This pays no account to the professionalism of the medical staff involved – who have been communicating with each other across the Premier League to discuss the prospect of a restart.
Given events at Dynamo Dresden over the weekend, it is impossible to imagine there won't be further positive tests before England's top-flight reaches its intended start date in the middle of June, each one doubtless bringing fresh calls for the 2019-20 season to be scrapped.
As they continue discussions around the detail of how football should be played – the reality, as Crystal Palace chairman Steve Parish said on the Andrew Marr Programme on Sunday, is that we are still very much in the position of if it starts, rather than when.
Leave a comment
comments